Working Proxies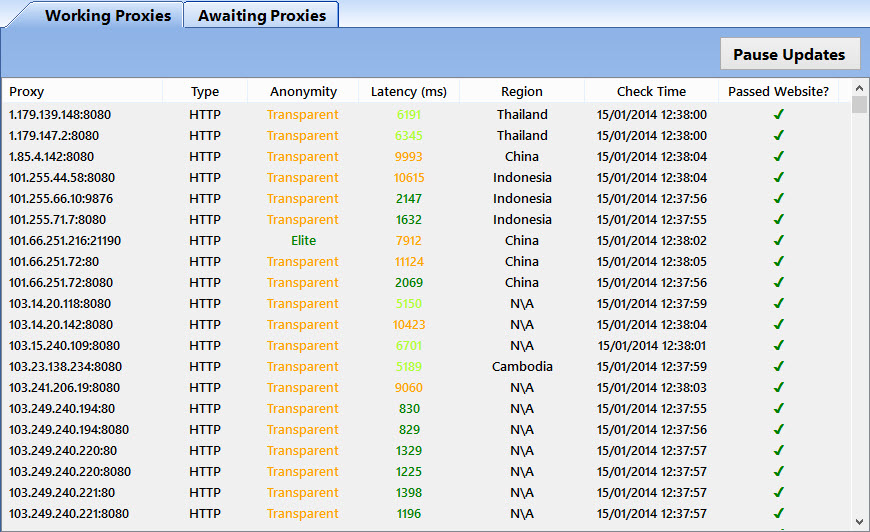 In this tab the main focus is on the list of working proxies, all of the proxies in this list have been checked and seen to be working.
The list has a number of columns which are explained below:
Proxy
: This is the proxy that has been tested as working. The format is Address:Port but in the case of proxies that have a username and password combination the format is Address:Port:User:Pass
Type
: This is whether the proxy is HTTP or SOCKs
Anonymity
: Whether the proxy is Transparent, Anonymous or Elite
Latency(ms)
: This is how long the proxy took to complete its check in milliseconds, the lower this figure is the better as it means that it is faster
Region
: This is the country that the proxy is in. When using this proxy it will appear that your location is from this region.
Check Time
: When the proxy was last checked
Passed Website?
: If you have set No Hands Proxies to check the proxies against a certain list of websites this indicated if it has passed that check or not. If not websites are set to be checked against it will automatically give a pass mark/
Pause Updates / Restart Updates
When No Hands Proxies is doing its thing checking and harvesting proxies it will be constantly updating its list of working proxies can make it very hard to see the list and use the output options. This button will get around this by temporarily pausing updates to the list. Clicking the button again will start the updates once again.