All of the controls in No Hands Proxies should be self explanatory in that if you know you want a specific thing from your proxies you will likely know what to set but if you are unsure about a specific control then simply look up the tab that your control is located in on the
contents page
to see what that control does and how it should be used.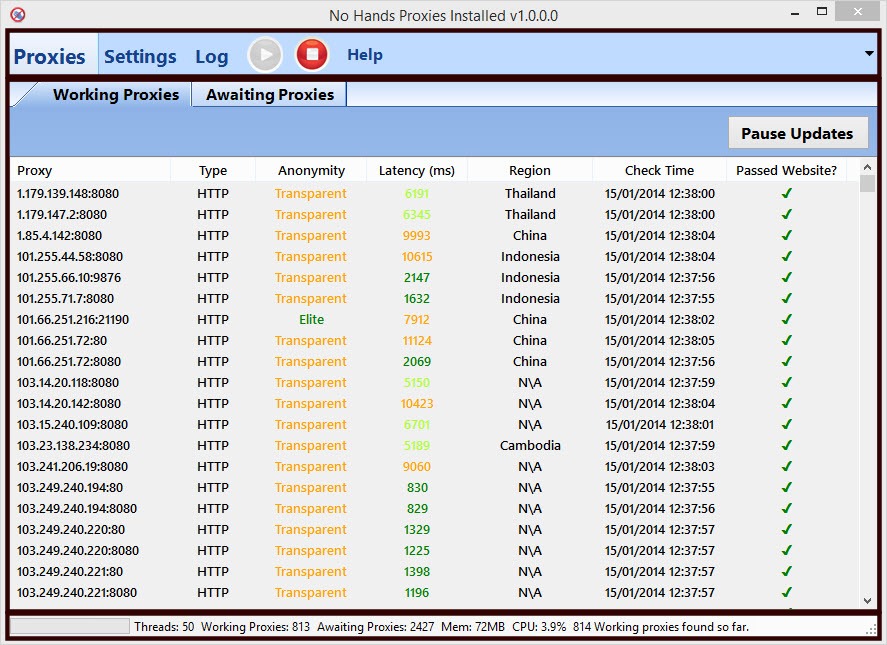 When you load up No Hands Proxies you will see three distinct areas in the application, the top toolbar area, the tab area (where most of the information and controls will appear and the lowest bar containing all of the status updates for your session.
From the toolbar you can choose between the different views such as the Proxies view, Settings or Log, you can also Start and Stop the app using the respective buttons or access the Help menu from here.
The
Proxies tab
will display your current working proxies or the proxies still awaiting checking, you can also output the list of working proxies from here by right clicking on the list.
The
Settings tab
is where you can customise your settings to ensure that you are getting exactly the type of proxies you require for your purpose.
The
Log tab
shows what the harvester is doing at that time, if you are not sure things are working as you would expect then take a look here as it will likely go some way to explain what is happening.
To start harvesting proxies you simply press the button that looks like the start/play button on any other device (green when usable and greyed out when not available) and to stop the harvesting of proxies simply press the button that looks like the stop button on any other device (red when available and greyed out when not available).

At the bottom of the window is a group of status labels which will give some idea of how No Hands Proxies is running at a glance:
Progress Bar: When NHP is running the progress bar will be spinning, when harvesting has stopped the progress bar will also stop.
Threads
: This is how many proxies can be checked simultaneously, the value for this can bet set in the
Settings Tab
=>
App Settings
tab
Working Proxies:
: This is how many proxies have been tested and found to be working this session
Awaiting Proxies
: This is how many proxies are currently waiting to be checked
Mem
: How much memory the application is currently using
CPU
: How much of the CPU No Hands Proxies is using
End Label
: This label will show different information depending on what is pertinent information at the time