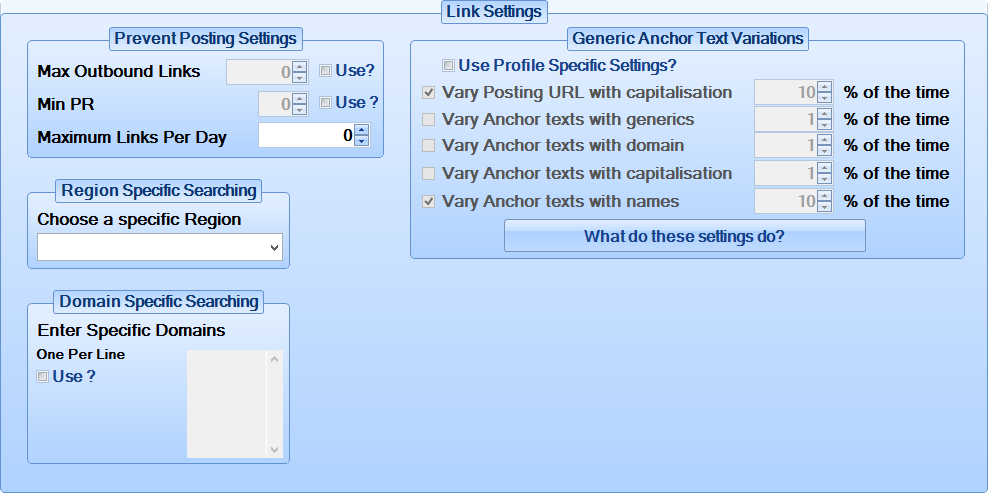 This is a great area for getting your profiles setup and working first time, a couple of minutes spent in here could save a lot of time later on down the line so it is a good idea to get this right. Most of these settings can be set globally in the
Settings Tab
so you don't need to change these for every profile, if these settings aren't changed the global settings will take effect.
Prevent Posting Settings
Max Outbound Links
This is for setting a maximum limit on the amount of outbound backlinks that a target can have for posting to it. An outbound link is a link that points away from the website it is on to a page on a different domain, this does not count links to pages on the same website.
Before a post is made to a page the number of outbound links are counted and if there are more than the limit set here the post will not be made.
Min PR
If you wish to limit the links generated by checking they meet a mimum PageRank you can use this setting to do so. Simply check the "Use?" button to enable the control and then set the minimum PR that you would like to have for your links.
This option requires you to be using reliable proxies as each IP address can only perform a certain amount of PR requests before Google will prevent PR checking, also this will severely limit the number of links that NHSEO will be able to generate.
Maximum Links Per Day
If you wish to limit the amount of links generated per day you can set this here, simple set the number to the maximum amount of links you would like to generate per day. If you wish to leave this unlimited you should leave this value at 0.
The count of links for the limit is reset every time NHSEO is closed and reopened but is not reset when it is just stopped and started again.
Region Specific Searching
This option is used to limit the search region used, setting this will request targets from a specific region from the search engines. If left unchanged it will default to US results.
Domain Specific Searching
Here you can limit the searching to certain domains. Some users prefer to build just .edu or .gov links as they think these hold some extra ranking strength over other domains, while the benefits of (far) fewer .edu/.gov backlinks over a larger amount of more varied backlinks are dubious the option is there to use if you prefer. This can also be used to limit the search results to more country specific domains.
To use this control you simply need to enter in the domains you want to use per line, for example if I wanted to limit to getting backlinks from .edu, .gov and .org.uk domains for example I would enter a list such asbelow:
.edu
.gov
.org.uk
To enable this option and use it you must check the "Use?" checkbox.
Generic Anchor Text Variations
This set of controls can be used for varying the anchor texts of your posts with some general anchor texts. Recently Google seems to be favouring websites with very varied anchor texts in their backlink profile so it could be beneficial to vary your anchor texts with some general anchor texts to appear more natural.
There is a good guide in the guide section of this forum titled Profile Settings Explanations and Examples which gives explanations of what each control does and how to use them best.